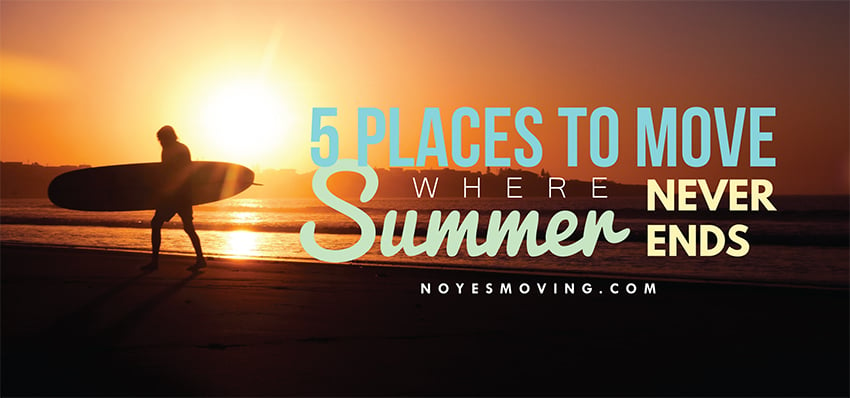 With back-to-school sales clogging store shelves, the sun setting a little earlier every night, and the weather cooling, the signs are clear: summer is almost over. But it doesn't have to end.
As another winter starts to creep in, we bet you're wondering if there's a place you can live where summers are endless. You're in luck. Here's a short list of places in the U.S. with rich histories, flourishing arts and cultural scenes, day-trip adventures, delicious foodie establishments, and plenty of sun that rank among the top locations for year-round summer fun.
5. Charleston, South Carolina – Voted one of the friendliest cities in the world, Charleston is full of rich history and Southern charm. A port city, Charleston offers many waterfront parks that overlook Charleston Harbor and has plenty of beachfront for surfing or relaxing with a good book. Its historic French Quarter and year-round outdoor city market give a glimpse into the people who enriched, and continue to inspire the city's culture. Visit the more than 500-year-old, 187 ft. Angel Oak Tree in nearby Johns Island, enter the Wahine Surf contest at Folly Beach, and make sure to see the annual Holiday Festival of Lights with three miles of light displays; it's a local winter tradition.
4. Santa Fe, New Mexico – One of New Mexico's most beautiful towns, Santa Fe's past is full of Native American and Spanish history. The city is an arts destination dating back to President Franklin D. Roosevelt's New Deal, which put over one hundred New Mexico artists to work during the Great Depression. These artists produced thousands of works of art in courthouses, city halls, and schools. In a short drive, you can be in the mountains hiking or walking on lava rock. If driving isn't your thing, Santa Fe offers a network of biking and walking trails to get you around the city. If you've never been to New Mexico, you should take note that despite the state's dry climate, you can experience winter-like conditions one day and summer conditions the next. With over 250 days of sunshine, make sure to pack plenty of sunscreen and water as temperatures average between 65 – 86 °F from spring through fall.
3. Santa Monica, California – With an average of 310 days of sun a year, Santa Monica is the ideal location to escape from winter weather. Located in Los Angeles County, the city is well known for the Santa Monica Pier located at the end of famous Route 66. Each year, the city's chamber of commerce hosts The Taste of Santa Monica on the pier for residents to sample food from local restaurants. Just 30 minutes outside Hollywood, the city is host to the Santa Monica Film festival and has served as a shooting location for hundreds of films since the 1920s. And if it's sun and sand you're craving, Santa Monica State Beach offers miles of shoreline where you can swim, relax, surf or workout at the original Muscle Beach.
2. Austin, Texas – Though land-locked, the capital city has a seemingly endless number of year-round swimming holes like Deep Eddy spring, historic Barton Springs, and the clothing optional Hippie Hollow. Lovingly referred to as a "city within a park," Austin has abundant green space with over 200 parks and more than 50 miles of trails. Home of the University of Texas Longhorns, Austin residents have made tailgating its own spectator sport. Residents also love paddle boarding, kayaking, and water bicycling on Lady Bird Lake. Despite its relaxed, quirky, artistic culture, Austin's considered one of the fastest growing cities in the U.S. Its hill country is often referred to as the Silicon Hills, and it's a boomtown for tech, advertising, and other creative industries. Oh, and it might know a thing or two about food and music.
1. Key West, Florida – Perhaps famous former resident Ernest Hemingway's penchant to celebrate with a cocktail, Key West's tropical climate, and laid-back atmosphere make it the ideal place to live if your daily schedule includes burying your feet in the sand. Residents of the island, just 90 miles north of Cuba, like to do things their own way. So much so that in 1982, armed with stale bread, they tried to secede from the state of Florida and established the Conch Republic. But Key West is more than eccentric locals and sipping drinks while you tan, though you're welcome to do that, too. A historic seaport, Key West has a rich maritime past in the fishing trade and can trace its Navy roots back to the mid-1800s. President Harry Truman was so enthralled with Key West's beautiful sunsets, warm climate, island cuisine, and relaxed vibe, that he established his Winter White House on the island and even joked about moving the nation's capital there. Every day there is a sunset celebration at Mallory Square, and though you probably won't make it far from your favorite spot on the beach, you can visit Dry Tortugas National Park by seaplane or boat to explore the historic 19th century Fort Jefferson. Old Town Key West bursts with charming, colorful historic buildings and remains an arts enclave since the days when Hemingway and Tennessee Williams called it home.
No matter where you choose to chase summer, we'll help you get there. With our highly qualified moving specialists handling your belongings with care, you can get back to enjoying the sun without worry.