Testimonials
With every move we make, we ask our customers to rate our service. Time and time again, based on survey responses from our most demanding critics — our customers — Earle W. Noyes & Sons has won United Van Lines' prestigious Customer's Choice Award.
Here are a few examples of what our customers have to say:
My belongings, stored at Noyes for two and a half years, arrived at my new home in perfect shape."
Our 1,200-mile move was painless because of the experience of your great people."
We've moved with Earle W. Noyes & Sons three times since 1987, and we're hooked!"
Noyes was exceptional. It was wonderful to work with such knowledgeable and capable people."
Your packers and movers took the stress away and made us feel more comfortable."
The piano move from the second floor was like a well-conducted symphony."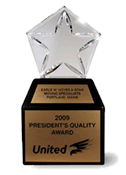 Our customers say it best.
Repeat Customer's Choice Award Winner
United Van Lines presents the annual award to a select number of agencies that provide the highest quality of service, based on post-move survey ratings and comments from its customers.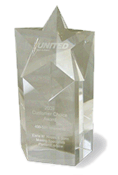 Our peers recognize us as being among the "best of the best."
National President's Quality Award Winner
United Van Lines presents the award annually to recognize the top service achievement in the carrier's U.S. family of affiliated moving agencies.