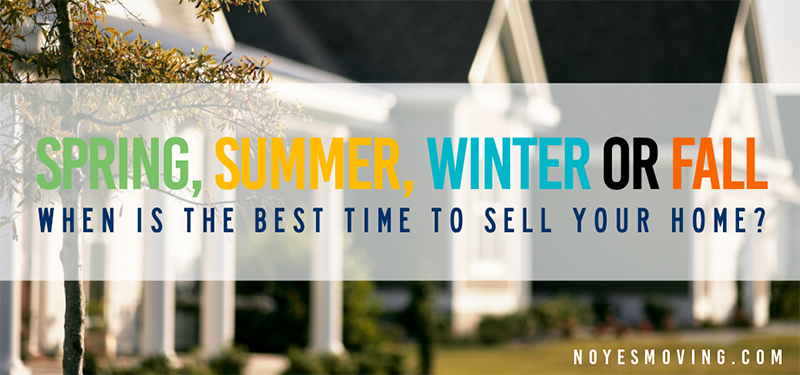 If you're a homeowner ready to sell, you might wonder when is the best time to list your home. Realty phrases like 'it's a buyers' market and not a sellers' market,' is confusing and can even scare some homeowners away from listing their property effectively. And for a homeowner living in an area that experiences each of the four seasons, it's hard to know how weather affects a home's price. So, when is the perfect time to sell your home?
Right now.
Spring marks the beginning of the busiest sale and buying season, which lasts throughout the summer, and has the potential for a bigger sale price. Warmer weather and school vacations help ease the moving process for families, and homes show better curb appeal when lawns and gardens are in bloom. For those of us in the northeast, colder weather tends to keep us indoors while warmer weather draws out more buyers. Winter weather also produces quick turnarounds between a buyer and seller, which lead to homes being sold for less than market value.
How Much Should You List Your Home For?
You, or your home appraiser, can determine the cost of selling your home by looking at the comparable data of other houses sold during warmer months for an accurate and fair price. It's also recommended that you watch what your neighbor's homes sell for before listing your property. Here are some questions to ask: When did homes sell in your area? Was it during the spring, or was there a spike in the summer? Did the sale price exceed market value.
Why Spring Provides a Magic Window
With such a short amount of time to list, stage and sell a home, you're probably wondering if there is a certain timeframe which you have to get your home on the market. Some refer to this as The Magic Window. In large metro areas, like Boston, homes listed from mid-March to mid-April sold the fastest and at a higher price. On a national level, homeowners anticipating a quick turnaround, at the maximum sale price, listed their homes in early May and sold their homes nearly a month faster than those listed later in the season.
Moving is So Much Easier
Moving your furniture and valuables seems like a daunting task. Add winter weather into the mix and you might choose not to sell at all. If you hire a moving company like Earle W. Noyes & Sons, we will always take the necessary precautions to help keep your valuables from getting damaged during any kind of weather. Ready to sell your house and move into your dream home? Request a moving quote today.
When Should I Contact Noyes?
As soon as possible! The summer months are the busiest time in the moving industry. We're often booked to full capacity during the summer. Even if you haven't sold your house yet, contact us for a free estimate. This will save time and make scheduling easier once your home does sell.
Sources: Zillow, Realtor