PORTLAND, ME —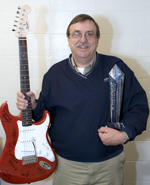 was honored with United Van Lines' 2010 "Operations Achievement" award at its annual Learning Conference recently in St. Louis. United chooses only one individual from among nearly 500 domestic United Van Lines agencies.
This prestigious recognition is for excellent individual performance in the field of operations and honors the recipient who has consistently demonstrated a passion for exceptional performance, teamwork, professionalism, and achievement of common goals.
The conference theme being "Ready to Rock," Dow's award included a Fender Squire Stratocaster guitar signed by members of the World Classic Rockers band, which performed at the conference: Nick St. Nicholas (formerly of Steppenwolf), Aynsley Dunbar (formerly of Journey), Greg Walker (formerly of Santana), Randall Hall (formerly of Lynyrd Skynyrd), Fergie Fredriksen (formerly of Toto), Michael Monarch (formerly of Steppenwolf), Fran Cosmo (formerly of Boston), David Coyle (guitar and vocals, WCR), and Mark Hoyt (keyboard and vocals, WCR).
Dow has a 47-year history with United Van Lines and has been Director of Household-Goods Operations since 2004. As a 35-year van operator, he was awarded the "Van Operator of the Year" award in 1992 and the "Super Van Operator of the Year" award in 1993.