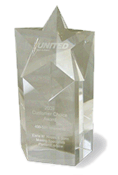 PORTLAND, ME — United Van Lines has honored Earle W. Noyes & Sons as among the "best of the best" of its nearly 500 domestic agencies with its prestigious 2009 "Customer Choice" award.
Noyes has received the award six times before this — every year from 2000 to 2006. It also received an honorable mention for the award in 1996, 1999, 2002, and 2007.
United Van Lines presents the annual award to a select number of agencies that provide the highest quality of service, based on post-move survey ratings and comments from its customers.
Steven J. Dawkins, United's Senior Executive Vice President of Household Goods Services, congratulated Noyes saying, "Your whole team is to be commended for achieving consistent service excellence. Clearly, you and your staff have worked very hard to earn our customers' confidence and loyalty."