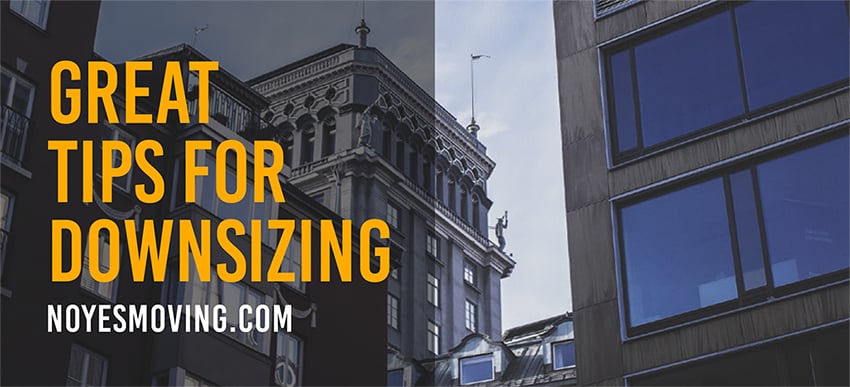 Whether your children have grown up and left you with an empty nest, or you've had it with landscaping and moving your lawn, there are many reasons for downsizing into a smaller home or condo. Downsizing can be both fun and challenging as you plan for life in closer quarters, so we're offering some great tips to help you transition without too much work or stress.
LET IT GO
In most situations, less living space means less storage space as well. In order to cut down on excess clutter in your new, smaller home, start to thin out your belongings about 3 months before your move. This will help you to accurately plan the layout and storage options moving forward. There are several ways to get rid of unwanted belongings that can even make you a little money or give you tax deductions. Having a yard sale, donating to Good Will, or selling things on Craigslist are all great options.
If you've decided to part with some of your belongings, you now have to decide what things to keep and what needs to go. Go through all of your closets and cupboards and make a pile/box of things you use on a regular basis and another pile of things you haven't used in about 6 months to a year. There's a really good chance that if you haven't used or worn something in the last 6-12 months, you can feel confident about donating or selling it to clear up some space.
OR DON'T
If the thought of parting with your possessions doesn't sit well with you; have no fear. There are many secure and convenient self-storage options right around the corner! Self-storage is an easy and inexpensive option which allows you access to all of your excess belonging without keeping them in your home. Self-storage is also a smart option for people who are currently downsizing, but may return to a larger home in the future.
PLAN IT OUT
If space is very limited in your new house or condo, planning out your new living space is highly recommended. Furniture with extra storage options or multiple purposes are a great way to save space and money while decorating your cozy abode. Planning out multipurpose rooms are also a must when trying to make the most of your living space. A spare bedroom that doubles as a home office or craft room is a great example of a multipurpose room.
EMBRACE IT
Condo or apartment living is a different lifestyle than you might be used to, but there are many great benefits for the right kind of person. On average, a mortgage on a condo or apartment is $500-$1000 less than that on a house. Imagine the traveling you could do with the extra money you save by giving up a bit of square footage. You may not have as much storage or living space as before, but the lack of extra room might also deter Great Aunt Millie from visiting as often.