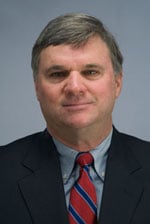 PORTLAND, ME — Peter Noyes, president of Earle W. Noyes & Sons Moving Specialists, Portland, Maine, was elected to a two-year term on the board of directors of UniGroup, the parent company of United Van Lines, Mayflower Transit and other transportation-related companies, at the company's recent annual shareholders meeting in Boston. Earle W. Noyes & Sons Moving Specialists is an agent for United Van Lines, the country's leader in the moving industry.
Noyes is a third-generation owner and president at Earle W. Noyes & Sons Moving Specialists. He began his career in the moving industry in the 1970s, working as a van operator while attending college. Afterward, he worked alongside his father and grandfather at the family offices. He served as operations manager before becoming president in 1987. 
Additionally, Noyes is a current board member of The Distributors and Suppliers Group Trust and a long-time member of the Portland Rotary Club. Noyes received his bachelor's degree in Transportation Administration from Michigan State University.
About UniGroup — UniGroup, Inc. is a $1.6 billion transportation and relocation services company with headquarters in suburban St. Louis, MO. In addition to household goods carriers United Van Lines and Mayflower Transit, UniGroup owns other subsidiaries that provide goods and services to professional movers.